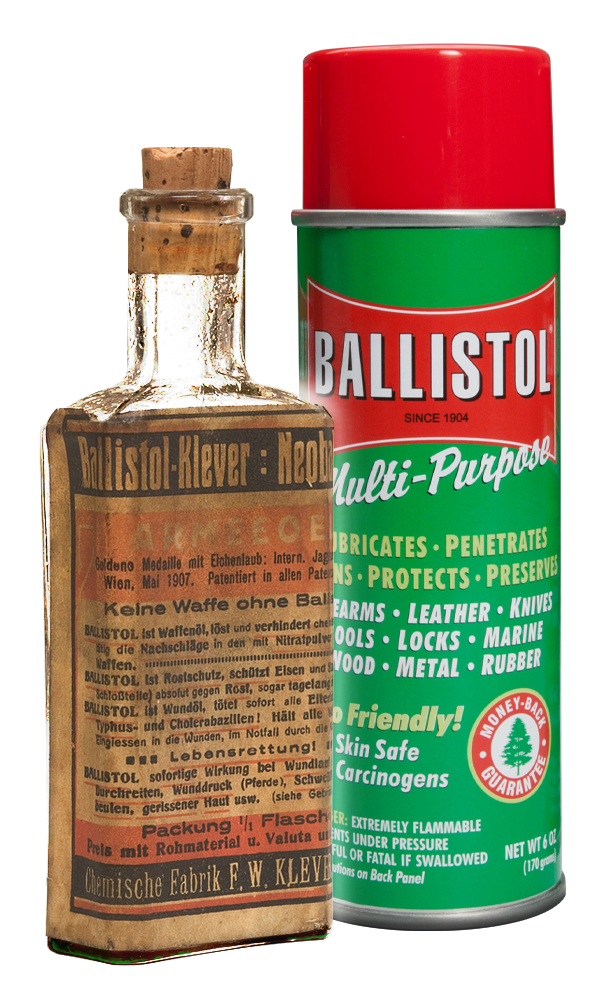 SINCE 1904, BALLISTOL HAS DEFEATED RUST, FRICTION, CORROSION AND THOUSANDS OF CHEMICAL ENGINEERS WHO'VE TRIED TO IMPROVE IT.
For over 100 years, Ballistol has held the title of the world's most useful and 100% eco-friendly multi-purpose oil. Unlike competing oils, it's also skin-safe and non-carcinogenic. People all over the world trust Ballistol to clean, lubricate, penetrate, protect and preserve their firearms, leather, wood, metal, rubber and plastic. With a mind-boggling range of applications, Ballistol is the recommended, must-have multi-tasking oil for in the know mechanics, plumbers, electricians, shooters, hunters, fishermen, and handymen all over the world.
Shop Now
THE MISSION: DEVELOP AN OIL THAT CAN BE USED ON EVERYTHING.
At the turn of the 20th century, the German Imperial Army demanded the impossible. They challenged Friedrich Klever and his son Dr. Helmut Klever, a professor of chemistry, to create a unique, multipurpose oil. This new oil had to clean, lubricate and protect:
The metallic parts of guns and rifles
The wooden stocks of guns and rifles
Soldiers' leather gear
Oh, and it also had to serve as a wound oil for minor injuries, lacerations and bruises.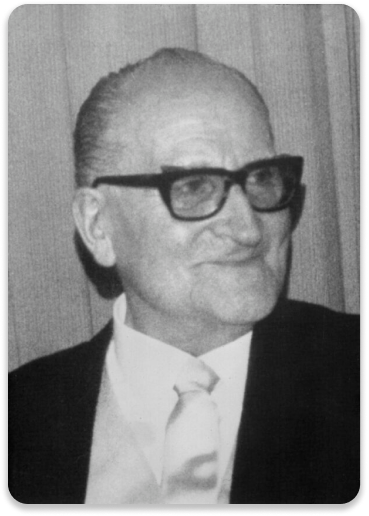 Dr. Helmut Klever
In 1904, Dr. Klever succeeded in producing the special compound, which he named "Ballistol" (from the words "ballistic" and "oleum", the Latin word for "oil"). This new "ballistic oil" performed even better than anyone hoped. In 1905, the Imperial Army tested and adopted Ballistol as an essential tool for German soldiers and remained a German "secret weapon" until 1945 when WWII ended. Within a decade, word spread quickly about Dr. Klever's miracle oil and hunters, boaters, hikers, and outdoorsmen throughout Europe started using Ballistol.
FAQ
IS BALLISTOL AVAILABLE IN CALIFORNIA?
Non-aerosol Ballistol is available in California.

WHAT PH LEVEL IS BALLISTOL?
While most other brands are pH-neutral, i.e. have a pH around 7, Ballistol has a pH between 8 and 8.5. This is why Ballistol is capable of neutralizing mild acids and human hand sweat, which is of a slightly acidic nature. Please note that Ballistol does not contain any water, so therefore a pH cannot be established until emulsified with water.

DOES BALLISTOL RESINIFY OR HARDEN?
Ballistol does not resinify. Most other lubricants are subject to relatively fast aging and oxidation. They harden in time - a process which is called "resinification." The oil begins to thicken, becomes sticky, gluey, and finally turns into a hard resinous substance. By contrast, Ballistol contains a combination of anti-oxidants and medical oils, which together make it much less susceptible to the process of aging than other lubricants. Read more about Ballistol's longevity.

CAN BALLISTOL BE USED IN PLACE OF OTHER MULTI-PURPOSE OILS/LUBRICANTS/PROTECTANTS?
Of course, Ballistol can do whatever other lubricants/protectants can do. Use it on tight or squeaky hinges, on door locks, padlocks, for the maintenance of gardening tools, lawn mowers, scissors, pocket knives, as sharpening oil, on bicycles, motorcycles, your model train, skateboards or roller blades, ski bindings and edges, etc., etc. But Ballistol does more. It can be used to polish silver and brass. And it will even protect WET surfaces.

WHERE CAN I FIND BALLISTOL?
Click here to find a dealer near you and enter your zip code in the designated box. You can also buy Ballistol by clicking here.

IS BALLISTOL SAFE ON WOOD?
Yes! Ballistol will bring out the color and grain on finished and unfinished wood, and will also protect wood from insects as well as humid, moist environments. Read more about Ballisol's uses for wood care.

IS BALLISTOL SAFE ON RUBBER?
Yes! Ballistol will clean rubber and prevent it from drying out. Caution should be used when using Ballistol on foam rubber.

DO I NEED TO MIX BALLISTOL WITH WATER?
No. For most applications, straight Ballistol should be used. Always use 100% Ballistol on electrical equipment. Emulsify Ballistol with water for use cleaning black powder and corrosive ammo residue, as a boring and cutting oil, in jet washers and ultra-sonic cleaners. Refer to the mix ratio chart below.
Mix Ratios for Ballistol Oil + Water
Clean Modern & Smokeless Residue

100% Ballistol

Clean Black Powder Residue

25% Ballistol
75% Water

Neutralize Corrosive Ammo Residue

10% Ballistol
90% Water

Jet Washer & Ultra Sonic Cleaner

10% Ballistol
90% Water

Electrical Equipment

100% Ballistol

Boring & Cutting Oil

10% Ballistol
90% Water
 IS BALLISTOL SAFE ON PLASTIC?
Ballistol is safe on most plastics. Caution should be used when using Ballistol on soft and/or non-oil resistant plastics.

CAN I USE BALLISTOL ON SUEDE?
Do not use Ballistol on suede. Ballistol can stiffen suede.

IS BALLISTOL SAFE ON COMPOSITE/POLYCARBONATE GUN STOCKS?
Yes!

IS BALLISTOL SAFE ON NICKEL/CHROME/GOLD LEAF?
Yes! Ballistol is safe on all metals when used as directed. There is the potential with any creeping oil to "lift" metals plated by electrolysis, but our product is simply not capable of deteriorating these metals. We recommend when using Ballistol on electro-plated metals (gold leaf, nickel, chrome, etc.) to wipe off any excess Ballistol after cleaning. Ballistol should not be used on these surfaces if they are scratched or damaged.

IS BALLISTOL NON-TOXIC?
Ballistol does not contain ingredients considered hazardous by the FDA. It does not contain any ingredients which may be harmful for warm-blooded organisms, reptiles or aquatic organisms (if used as directed). If swallowed, DO NOT INDUCE VOMITING, ASPIRATION CAN OCCUR. CONSULT A PHYSICIAN IMMEDIATELY.

CAN I STORE BALLISTOL IN A PLASTIC BOTTLE?
We do not recommend using plastic bottles for long term storage of Ballistol. Ballistol will keep best in its original container.

WHAT'S THE BEST WAY TO STORE NON-AEROSOL BALLISTOL?
If you are using a trigger sprayer attached to the non-aerosol Ballistol can, remove after use and return the original cap. Ballistol can leak from the trigger sprayer, and will be exposed to air. Ballistol has an indefinite shelf-life when the original cap is returned to the can.

WHY WON'T BALLISTOL "MIST" OUT OF MY TRIGGER SPRAYER?
Ballistol will not "mist" out of the trigger sprayer, but will instead shoot a "stream". For a mist application, please use our aerosol version.

WHAT'S THE DEAL WITH BALLISTOL'S UNIQUE ODOR?
Some hate the smell of freshly sprayed Ballistol while others love it. The odor comes from natural ingredients and smells very similar to black licorice. For most applications the smell dissipates and becomes completely odorless in 10 – 15 minutes. Heavy saturation may take longer.

DO ANIMALS FIND BALLISTOL'S SMELL OFFENSIVE?
Nope. In fact, they are attracted to it.

WHAT ARE THE LOWEST AND HIGHEST TEMPERATURES BALLISTOL CAN BE USED?
Below 0° F (-20c) Ballistol will thicken but not freeze. Use less Ballistol in colder conditions. The flash point for liquid Ballistol is 125° F.